Competent management of an advertising campaign requires special skills, experience and understanding of media indicators. However, it is possible to understand the basic concepts that will help evaluate the effectiveness of advertising. Even if you use advertising platforms that give you complete control over how your ads are placed, you should not ignore this information and rely on someone else's experience and knowledge. Understanding baselines will help you better understand all processes and control your costs.
For example, publishers can measure ad metrics such as impressions, clicks, CTR, revenue. In addition to these metrics, advertisers are also concerned about conversions. They want to calculate the ratio of the cost of an advertising campaign to the profit that it brought.
We will show the opportunities that the Phoenix Native platform gives advertisers and publishers and show how to evaluate an advertising campaign using two groups of metrics.
Quantitative Metrics
They allow you to control the course of an advertising campaign and show whether users want to interact with advertising material in general and how willingly they are ready to do so.
Impressions – the number of impressions of an ad unit with an article or product. This technical indicator helps the advertiser and publisher to monitor the progress of the advertising campaign and set limits on the number of impressions.
Unique Impressions – the number of users who were shown the ad. This indicator should be slightly lower than the total number of impressions. If there are significant discrepancies between these figures, then something went wrong and you need to figure it out.
Clicks – the number of clicks from an ad to an article or product. To evaluate the effectiveness of placement on an advertising platform, you need to know the ratio of the number of impressions and clicks – CTR.
CTR – percentage of impressions versus clicks. To calculate it, you need to divide the number of impressions by the number of clicks and multiply by 100%. If you changed creatives or a platform in different periods of an advertising campaign, you can compare CTR in different periods and determine the most effective formats. In Phoenix Native account, CTR is calculated automatically.
Views – quantitative metric that refers to the content itself. A view counts clicks from ads and from any other sources and every page refresh.
Conversions (target actions) – the proportion of users who made the target action. For the convenience of tracking the further behavior of readers, it is better to design links with UTM tags.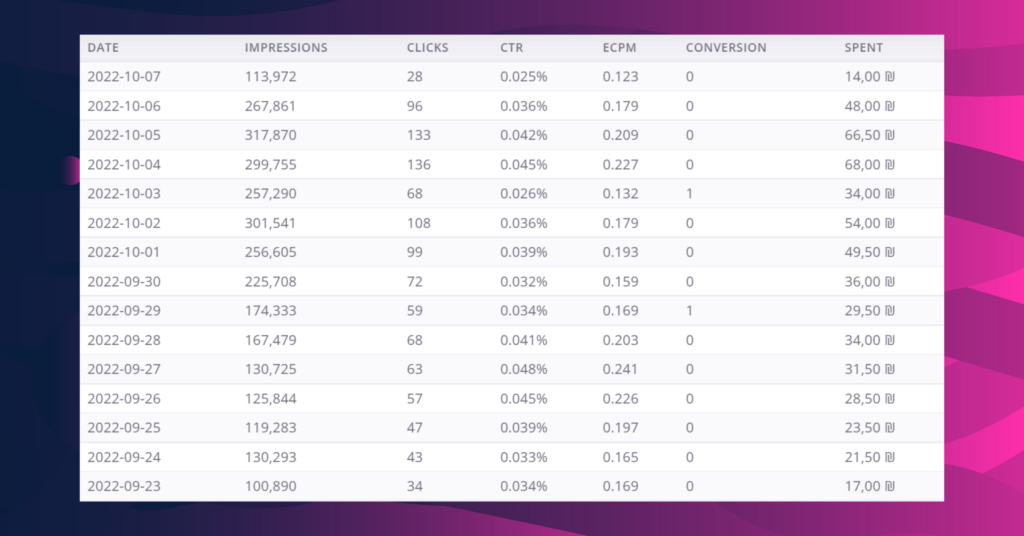 Performance Metrics
They allow you to evaluate how effective investments in an advertising campaign turned out to be. These metrics are primarily important to advertisers. Publishers can evaluate how effectively and profitably they were able to organize a particular campaign.
Costs – show the total cost of the advertising campaign. It is rather a technical indicator that is needed to monitor the budget and revise it in time if necessary.
eCPM – the cost per 1000 impressions. This indicator is needed in order to evaluate the effectiveness of a particular campaign. For example, if you have several advertising campaigns running at once, then the one where the average cost is lower will be more effective for you.
Income – shows the total revenue from advertising that is placed in the widget blocks on the site.
The choice of key indicators in an individual campaign depends on your goals and objectives. These basic metrics allow you to comprehensively evaluate advertising campaigns, optimize them and make decisions for maximum results.
When registering on the Phoenix Native platform, you are given access to all statistics. This way, both advertisers and publishers can track metrics in real time and optimize their costs or profits as needed. Everything is available in one interface for your convenience. Our managers stay in touch with you 24/7, so you can contact them for help if you have any questions.